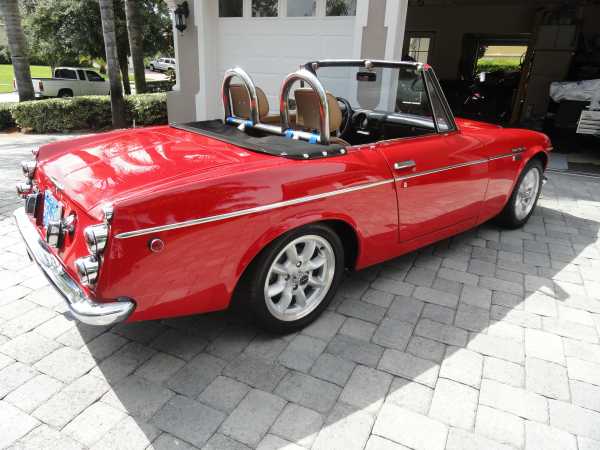 Mike Young of Datsunsports.com offered this car to me in 2003. He told me it was 100% rust free, which is why I bought it and did this articulate and thorough restoration.
My idea was to leave it stock looking, but try and locate ALL of the factory high-performance and race components. I didn't know how realistic this idea was, based on availability. But because of the Internet, I was able to locate all of the factory high performance and race parts correct for that period. For example, a new 4.11 limited slip, late model Mikuni Solex Carbs, cast aluminum deep sump oil pan & baffle, "C" cam (which is incredibly rare) complete comp. suspension, etc. Moreover, this car has a factory roll bar option that is also very rare.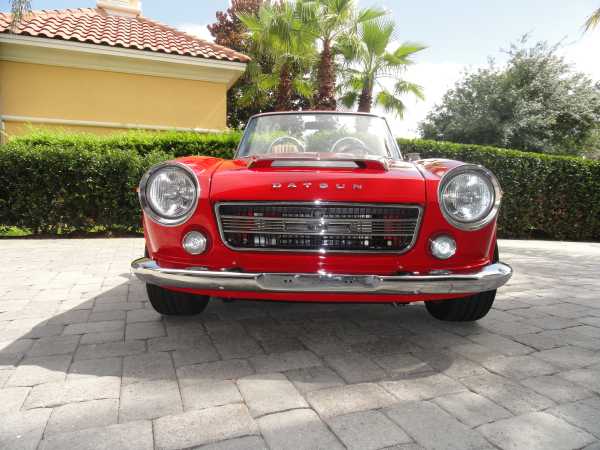 I ended up with a room full of "New Old Stock" parts, all in factory boxes. Once I had the parts in my possession, I started the restoration. I want to add here that I do Paintless Dent Repair, so my first step in the body restoration was removing all the dents with the PDR tools, which means NO Bondo, only prime and block to make the body perfectly straight. As a result, the body is dead straight. Even the seams on the rockers and both front & rear valance, and wheel well lips are all straightened without bondo.
The motor went to the race shop along with the rear-end to get work done by Power By Ford located in Orlando, FL. Scott (the owner) did the head work, porting, port matching, flow work, machine work and balancing. I did the remainder of the restoration including all custom fabrication. If you want a Datsun 2000, and you are in the market for the best, clearly, this is your car.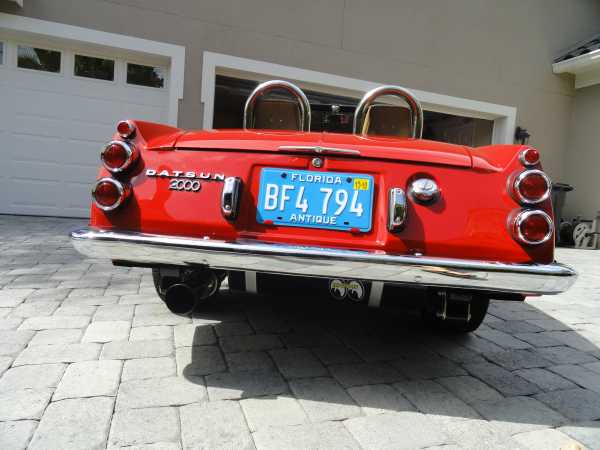 There is too much to explain on this car, so I thought I would take it part-by-part. In brief, all parts were either replaced, re-plated, epoxy painted, powder coated or urethane painted. All paint used for this project was catalyzed paint. The bottom line, you would have spent $100,000 to duplicate the car, and then you would still not end up with what I am offering here. Ross Mullins of Canada gets that kind of money for this level of restoration. A Datsun 2000 is not for everyone, but there are those of us who think these are very cool classics.

Something to consider—in "67" these cars were produced with overhead camshaft motors, front disk brakes and five speed transmissions, all built on a full frame car. These are not unibody cars. So think of it as a small "60"s muscle car because with the solex option they made 150 HP and they only weighed 2000 lbs. Conversely, I know some folks dig factory stock, but this particular car I consider more of a "resto-mod" that was my goal when I started. Stock looking with plenty of spice under the hood.
---
ENGINE: is nothing short of 175 H.P., 10:1 compression, 8000rpm redline, running on 93 Octane. As stated earlier, Power By Ford built the motor and I had forged pistons and rods made, 2 mm larger intake & exhaust valves, dual valve springs, "C" camshaft including ALL new rocker arms, chains and gears, oil pump, balance Shaft, aluminum flywheel. All moving parts are new except for the steel crank. Complete brand new clutch. The hold-down engine limiters I made with stainless steel to keep the motor from torquing/moving. with new motor mounts. I painted the block the factory color—using catalyzed urethane.

WATER PUMP: was modified for use with the aeroquip. I had an aluminum belt pulley custom made, and the back-up plate laser cut out of 304 stainless for durability and rust resistance.

TRANSMISSION: this car came with the Porsche "Servo" type box, it uses steel syncros as opposed to brass as in the Borgwarner type. Racers used the servo type box because of its durability. I had Bill Harvey of Lakeland, FL, completely rebuild the transmission since he has the credibility and experience in racing these cars since the 60's. Additionally, the entire gearshift linkage is rebuilt for the 'nice and tight' standard that high performance demands.

CARBS: Mikuni Solex last generation model, all rebuilt and re-bushed, the car comes with a complete jet set. The carb body was media blasted. I jetted the carbs myself and the car idles @ 750 RPM once operating temp is reached, with the "C" cam!!! Ross Mullen of Canada is in disbelief because he does high-end restorations on these cars and says: "I never got one of these cars to idle under 1100 RPM with the "C" cam. In retrospect, I think it is because of the MSD Box and the electronic distributor."

DISTRIBUTOR: was done by Gary Boone because they start with a Datsun 210 CD distributor and then re-work the mechanical advance thus eliminating the points along with the constant adjusting. As a result, this car runs like a top.

EXHAUST: was made by me using all 304 stainless steel. I.D. is 2 ¼". Stan out of California had the tuned headers made so I used his Exhaust header. Next, I needed a 'smooth bore' flex pipe connector, finally found a real nice one 2 ¼" I.D. up in Canada, 304 stainless steel. From there, I ran 304 tube 2 ¼" I.D. to the polished billet 304 stainless resonator, then over the rear end and into my version of a 304 stainless factory type muffler with the factory type megaphone end. The full exhaust is all mounted with Datsun rubber exhaust blocks, and has NO rattles or vibration. The exhaust is more than custom as it is designed for a lifetime while looking and sounding beautiful.

SUSPENSION: includes all powder coated new parts for front & rear, comp springs up front with comp sway bar. Rear springs, I had the spring pack custom made to give proper ride and ride height. This car does not sag at the back like ALL the other Datsun 2000's.

WHEELS: consist of 15" Pana Sport for proper appearance.

SHOCKS: are KYB Nitrogen charged.

BRAKES: I installed firewall reinforcement brace for brake pedal stiffness including all new parts, stainless steel braided rather than rubber lines, slotted and cross drilled rotors, rear aluminum drums media blasted. All cylinders are new. Brake master, clutch master, and slave are all new including calipers.

INTERIOR: all new carpet, seats, door panels, dashboard done at Just Dashes in California and it's concours, all lights work, cig lighter, clock, and radio all work.

STEERING WHEEL: came with some luck. It is a leather Momo; the hard part was the center hub, got that too. I have the original steering wheel on hand.

HEADLIGHTS: new buckets assemblies with H4 bulbs. Side marker lights are orange teardrops used for 69's only. $800.00 for new pair, ouch, very rare. All rear lights are new as well.

BUMPERS: all re-chromed with powder coated heavy duty bumper brackets.

ROLL BAR: is 304 Stainless .120 wall, polished, hand fabricated to fit with the factory receptacles.

TONNEAU COVER: brand new and made from Mercedes grade cloth canvas.

BODY & PAINT: code #WA8774 GM. Basically, there is no formula for the original red color. Plus, I think it had too much orange & black in it for my liking, so I chose the Corvette red 8774, very little orange & no black, even the Ferrari red had a ton of black as did the Porsche guards red.

WINDSHIELD: tinted, found one left in the entire USA made in South Africa. The original is just clear glass; the tint really looks more appropriate.

PERFORMANCE: the car speaks for itself from 0-60 in 5-6 second range, and at 6250 RPM it reaches 130 MPH, with no convertible top! I have redlined limited to 8000.

RADIATOR: is 3-row aluminum made by Ron Davis Radiators. They make Sprint/Nextel/ Winston Cup stuff. I designed the radiator to be directly bolted in, just like the stock part, and this thing is just beautiful with electric fan coming on @ 180 degrees for desired cooler temp.

AERO QUIP: all the real thing, with custom CNC fittings. I have a whole book bag full of receipts, research, resources, drawings, prices, and hundreds of pictures on disk documenting the whole restoration process. For serious inquiries I can send a file/disk.











---
I finished the car in 2005, and it just sits in the garage under a car cover. Its never gotten wet, never had to wash it with a hose, I simply wipe it down if I drive it. The reality is this car is a show car that runs beautifully. It's too nice to drive in the rain. I think it's easily worth around $30,000, so I doubt I would settle for much less than that. I think if you're serious about the car, I suggest getting in a plane and coming down to Orlando, FL, to inspect the car. I think the car needs to go back to California or maybe Japan or Puerto Rico; there is a great deal of interest for these cars.
(Side note: This professional quality restoration would cost $90,000. Many pros agree that it takes 1000 hrs to do one to this level (this car probably took more like 1200 hrs, but who counts when you are in this deep!) Honestly, if it were mine I'd ask around $38K and settle no less than $35,000! But it is not mine, and this car lover does not drive it enough.... He is willing to consider reasonable offers.
— Mike Young. Please call and I will put you in direct contact with this artist who created this car! 415-828-8778.)
Home