Lucha Libre Stories
Datsun Roadster extracts from their
web news page
mainly about the famous
La Carrera Panamericana
race
On the "anti-football run" New years day sponsored by Martin Swig. Rolling car show (yearly event) with many beautiful cars of all marques.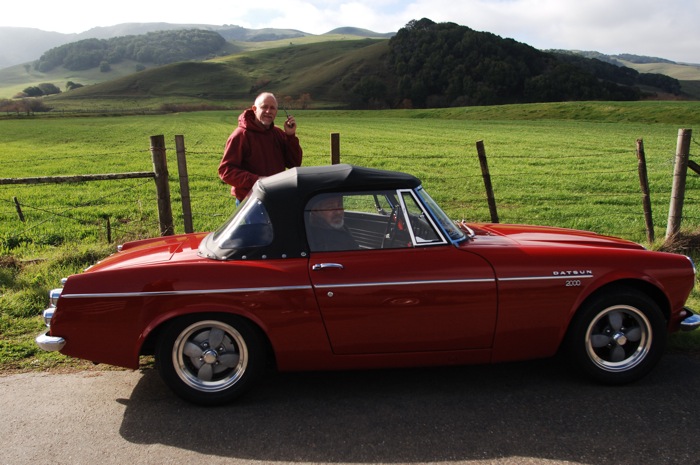 Mike and Gerard pull over to offer a hand to a disabled Alfa, a bad electronic distributor was the culprit.
Quote of the week from race winner Bill Beilharz: The way my car is geared it will only go 180 MPH but it gets there fast. The quote was lifted from fellow racer Gary Faules excellent blog. Bill has posted brief descriptions of his day by day experiences in winning the 2008 La Carrera Panamericana.

Using all 90hp we thundered past the Mustang, believe it or not.

Super sponsor Mike Young and DatsunSports.com.
| | |
| --- | --- |
| | |
| Mike works the hammer | his trusty companion, Jack |
The next person to mention, again, is Lucha Libre Racing sponsor Mike Young. This guy can not do enough to help us out. He dropped a pair of U bolts with me the other day before he took off on a trip to Southern California. All it took was a question about do U bolts ever break? "Not usually," he said, "With your 1" body lift, you might have changed the geometry and stressed that link." Or it might have just broken after 41 years. If you're in the market for a beautiful Datsun Roadster or early Datsun 240Z check out Datsunsports.com. Mike is a true gentleman, a square dealer and he's going broke helping this team get to Mexico.
In the two years that I've owned this car I can not say enough about the help the Mike has provided. Every problem I've had he's diagnosed correctly, usually over the phone. If Lucha Libre Racing were the Cash Cab he'd be the grand prize winner. I guess 35 years working on the same marque, makes one an expert.
---
A wall of used transmissions and yard full of spare body parts at Mike's Roadster Ranch.
The problem when a transmission goes out on a Datsun Roadster is that the motor needs to come out to get the transmission out. Mike Young to the rescue. In two years of calling him with various automotive maladies he's never made an incorrect diagnosis. His remedy is what amazed me. He suggested I drive to his Roadster Ranch and pick up a rebuilt transmission out of his "valuable parts container" I nursed the Roadster up the highway with out the use of top gear and eventually rolled her into the shop of my car builder Greg Tuetken.
Dear old Dad met me there and we proceeded on to Mike's Roadster Ranch in Dad's minivan. A hour and a half later we had arrived. Mike gave us a tour of the place and I shot some photos. We pulled the rebuilt unit from the weather-tight container and loaded it up. A smattering of other parts made up the rest of the load and after an hour or so we headed out into the darkness back to Greg's shop. Mike gave me the rebuilt transmission with the agreement that after we pulled mine he would get it rebuilt and I would pay the tab, he would wait until I was back from the Carrera as he knew I was out of funds, amazing.
Gary Faules and Mike Young look things over.
Datsun legend, Mike Young, has come on as a sponsor. He's been looking over the motor and has already found the pesky coolant leak that has plagued the car for months. Mike's loyalty runs deep and he's not afraid to show it. I received several calls that someone was seen wearing a Lucha Libre Racing T-shirt at the prestigious Palo Alto Concours d'Elegance. That someone was Mike Young, 30 years experience fixing Roadsters, an in-house parts collection that is unrivaled, and our newest sponsor. Stay tuned for more.
Solvang's Annual Datsun Roadster Show, a 1965 Datsun 2007 Best of Show winner.
---