1968 Datsun 2000 / 5 Speed Car
Sold for $4800. Call Mike for current available cars.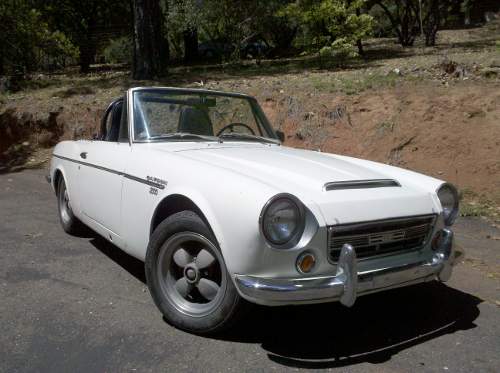 Nice original '68 2000, runs well. Transmission shifts nicely. Good, tight front end (especially steering box, and upper A-arm bushings).
All original stainless steel side mouldings are present and in good condition.
Brakes in good order having no leaks, linings 60%, recent brake master cylinder including the (Stan's) brake brace upgrade! Libre wheels shown in some pics are not included (but could be purchased as an option). Yes, this car could stand a paint job but quite presentable as is having a good, solid body. The softop frame is in good shape, but the top fabric needs replacement. Also noteworthy are the headlamp rings, (Rare, 67.5/68 2000 only) which are in very good condition.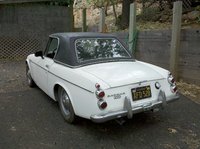 The car has an "Auto-power " rollbar, a custom fitted tonneau cover as well as the "Dyna plastics" hardtop shown in some pics. It appears to have had some cylinder head work prior to it's being stored for the past 15 yrs (indoors in san mateo). Also has had the 4 blade fan upgrade(and fan clutch deletion), alternator relocation (to the desired pass. side location ) , and smog system removal.
Car has "Koni" shocks all around as well as a (fairly recent type) Chrome Exhaust header. Also noteworthy are the original Black plates. These plates are in the system as the original owner had the car on "non-op" status. Also, the car is currently registered in my name.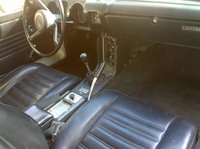 Back to the condition of the body, the front inner fenders are in very nice condition (as these cars are of semi-unit construction,sometimes a fender has been replaced with inner fender still showing damage.) also the condition of the trunk floor is very good, having no "stress cracks " that are sometimes present. additionally the rear panel is in very nice condition.
Common problem area... in very good condition. (Pic underneath).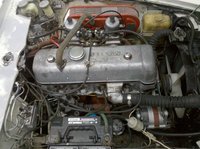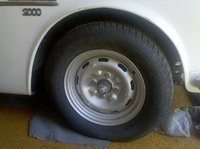 Floors are also solid. Dashboard is original (not a "cap") the only damage that is present is in the very center and is quite repairable. I personally prefer this (even with minor damage) to the caps ...) local delivery available,...... or transportation via truck can be arranged, call Mike (415-828-8778) for more details.......... $4800.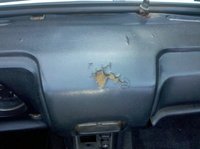 Lizard
watches
dog:

Jack
the Wonder!
Dog
sitting by
your
next Datsun.
---